Day 2 in Blogland!
So, I was reading Carl Hiaasen's 'Skinny Dip' this morning and thought I'd found a new 'Beer Cans in Literature' entry! I was getting pretty fired up about it until the character 'twisted off the top' of his Budweiser. That's right, it turned out to be a bottle and not a can. But life goes on. Then I began to imagine what it would be like to have a DVD of my life up until now. How cool would that be? OK, maybe not for some folks, but I'd get a kick out of it. I'd pop in 'A Curator's Life' and click on 'Main Menu'. Then I could choose a year, even a month or a day, and laugh and laugh at the awkward moments of my life. The first thing I'd watch would be a family vacation we took to Miami back in 1979. I remember we were all excited to see the Everglades. We stepped out of our sky-blue rental car and headed into a swampy nature trail. My father was wearing a white golf shirt, and, within seconds, it had turned black. It was COATED with bloodthirsty mosquitoes. I'd watch that scene a couple of times.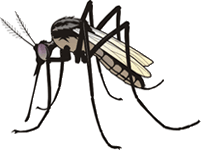 Hey, more snow headed our way! Should give me a chance to dust the cans this weekend after I shovel out yet again.
Cheers from the curator!