You just never know...
You never know where interesting breweriana will turn up. The key is to
never
pass up an opportunity to check out little, out-of-the-way antique shops when you're on the road. We were on a family vacation a couple years ago, heading to Pennsylvania's Knoebel's Grove Amusement Park, when we decided to pay a visit to Frank Lloyd Wright's 'Fallingwater' in Mill Run. While passing a small but promising looking antique shop along the way, I gave my wife the 'can we please stop?' look. Being the wonderful wife that she is, she obliged, and I ran in while the kids played Electronic Yahtzee and 'Invisible Ink' games in the back seat.
My wonderful find is below! It sits with two other beer can lighters (Blatz & Coors) in the West Wing of the Museum!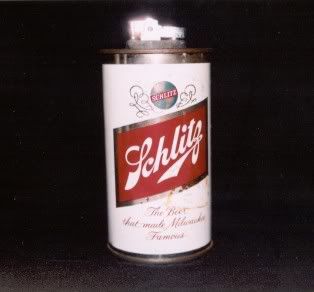 photo by museum photographer Jim Cannizzaro