Lifetime Museum Member's Showcase Part 1!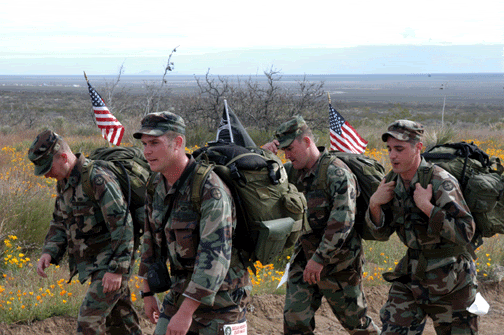 Today I wanted to acknowlege one of the museum contributors who, through the years, has gone above and beyond in his efforts to improve
The Beer Can Museum
. You might recognize him from the museum website's main page, where he can be seen receiving his framed certificate from the curator at a VIP ceremony a couple of years ago. Staff Sgt. Clint Scott is also seen in the picture above (he's second from the left) during his participation last week in
The Bataan Memorial Death March
, a 26.2-mile desert march through the White Sands Missile Range in New Mexico. The event honors the heroic service members who defended the Phillipines in WWII. I researched the Battaan Death marches while looking into the history of my father-in-law's ship, the U.S.S. Braine, which was hit by two kamikazes (he survived, half the crew did not) in the Pacific, and I was horrified at the stories shared by those who were there. Anyway, Clint began contributing to the museum long before I had ever met him (thanks to sister Laura Scott who told him about the ETBCM!) and while serving in the U.S. Army around the globe he always found time to seek out interesting cans for our shelves! Thanks for all you've done for our country and, of course, for the museum, Clint!
Oh, and Happy Easter from all of us at the Beer Can Museum!